Waltek provide the best solution for LED exporting to Malaysia
Over these years, Energy Commission(ST, Suruhanjaya Tenaga) have implement compulsory certification for LEDs step by step: Starting from 1st Jan 2014, LEDs need to obtain the ST COA certification for safety requirement. Starting from 3rd May 2014, LEDs has been made mandatory for energy efficiency requirement. Allow us to give you a brief introduction. Both safety and EE are controlled by ST, there will be only one ST COA certification which including safety and EE standards. Namely, add the EE standard into the previously safety ST COA certification, there is no individual certification for EE. The safety standard for LEDs includes MS IEC 62560, MS IEC 62031 and MS IEC 60061-1. The energy efficiency standard is MS 62612 (P):2012.
Waltek provides the one-stop service including testing and certification, all the testing for LEDs can be conducted in Waltek laboratory, after the test reports of safety and EE issued, we will submit these 2 test reports to ST for certification.
Please kindly note, for the 6000 hours aging test required by standard MS 62612 (P), LM 79 , LM80 or ErP test reports are not acceptable. Malaysia ST has confirmed that the 6000h aging test must be done according MS 62612 (P).
Since LEDs have fall in the mandatory scope both in safety and EE. How to proceed with the testing and certification? Regarding the 6000 hours aging test required by standard MS 62612 (P), is there any way to shorten the lead time? For the case that client has high shipment frequency, we have to conduct the consignment test for each batch when reaching Malaysia Custom, is there any alternative solution? What's the difference between PCS and BTS scheme? …Let Waltek to help you with all these questions!
More questions about the quotation and lead time, test standard, application procedure, required documents, or factory audit requirement, please contact Waltek CS or sales. Thanks for your support!
Attachment: Certification & label template
1. ST COA certification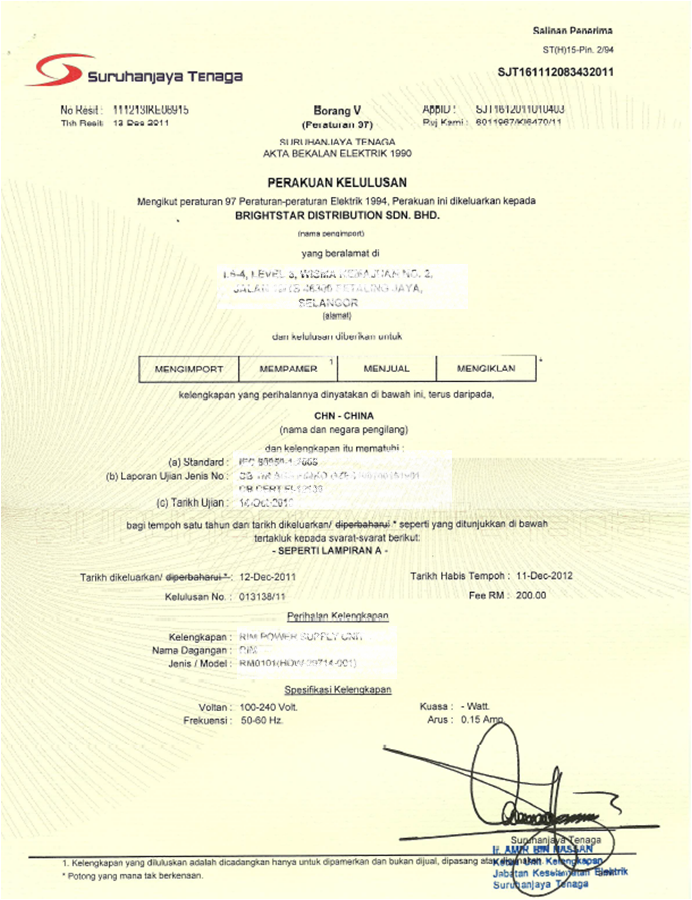 1.SIRIM label


3. Energy efficiency label